Pelvic Floor Therapy in Lehi
Postpartum is FOREVER: Learn How To Optimize And Heal Your Body, Before, During And After Pregnancy!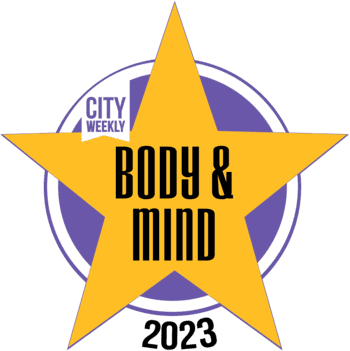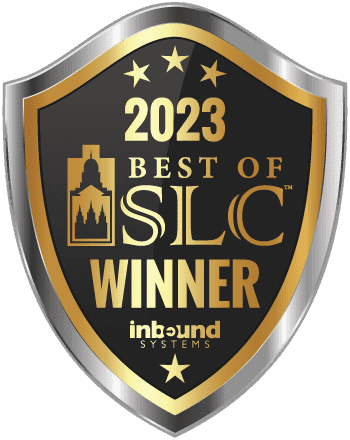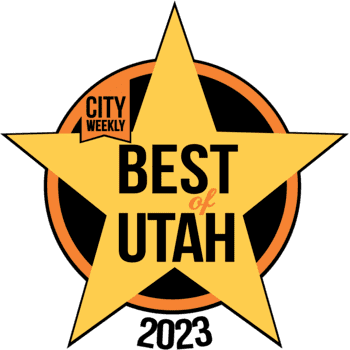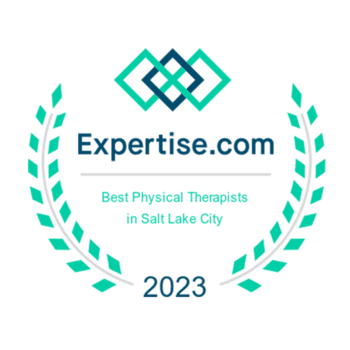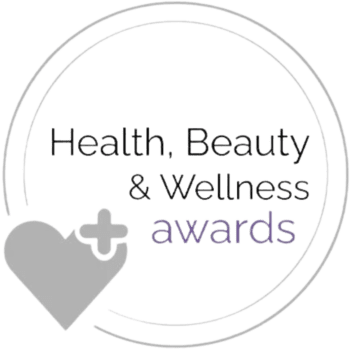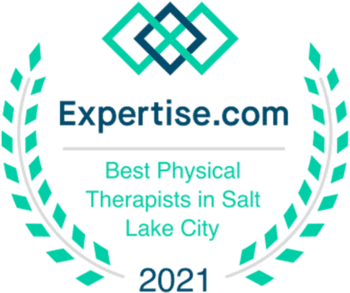 Top Rated

Physical Therapy in Lehi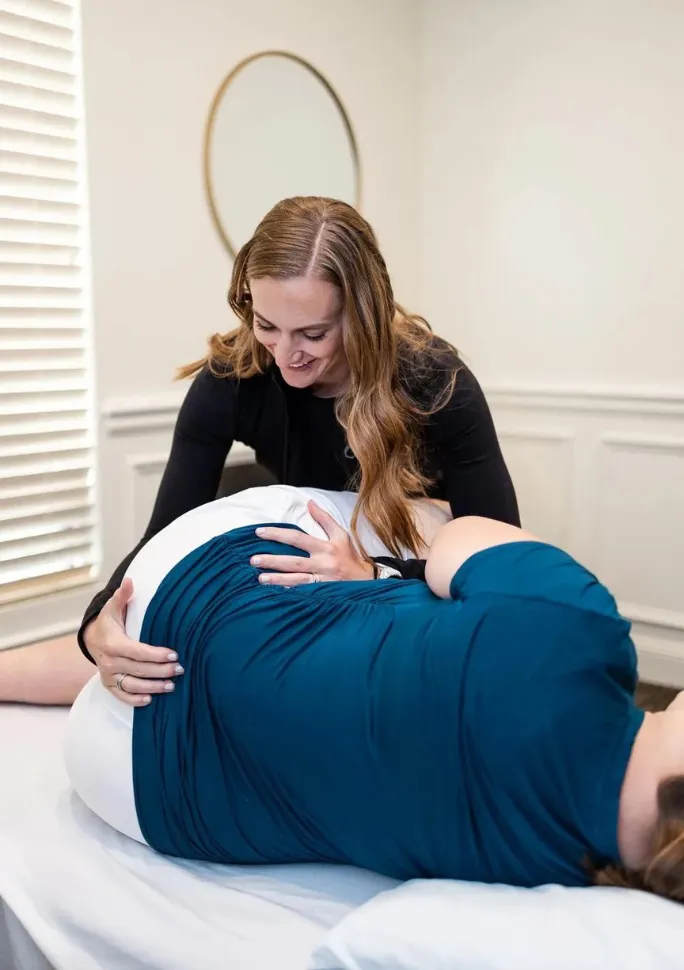 At our practice, we specialize in pelvic floor physical therapy and helping you achieve lasting relief from pelvic pain, sexual dysfunction, urinary and bowel conditions, orthopedic pelvic pain, and pre- and post-natal conditions. 
Our highly trained and licensed physical therapists are committed to providing personalized treatment plans and education to help you understand how to care for your body and prevent future injuries. We offer several treatment options and are here to support you every step of the way. Let us help you on your path to optimal health and wellness.
Personalized Care from Our Team
There are no two people exactly the same. Therefore, injuries can be different even though they may affect the same body part. Our expert medical team will evaluate your condition and create a customized treatment plan that will get you back on track to being your best. Our staff will guide you through each visit with personalized attention and dedication.
As Seen on "Good Things Utah!"
Making a special appearance on "Good Things Utah", our certified pelvic floor physical therapist and founder, Dr. Betty DeLass, illustrates the importance of pelvic floor health for women. Backed by her extensive training and years of professional experience, she provides trustworthy advice and practical techniques to enhance women's health & wellness. Don't miss her expert insights and practical tips to improve your quality of life!
Success Stories
& Testimonials

Other Service We Specialize In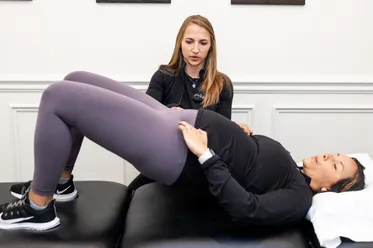 Pelvic floor physical therapy addresses pain, weakness, or dysfunction in the pelvic floor muscles. These muscles function well and allow blood to flow to connective tissue and muscle tissue. This improves mobility.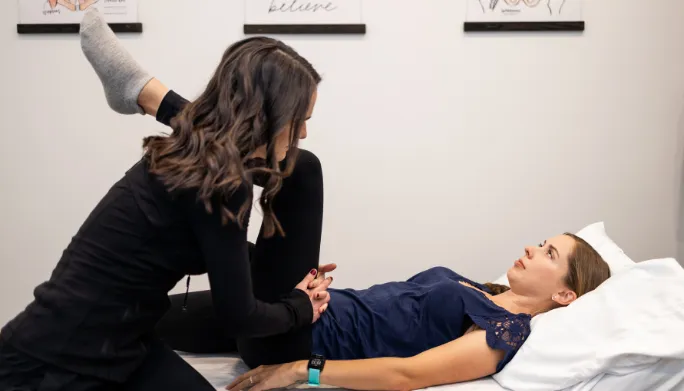 There are many reasons why pain and other issues around the pelvic floor may occur. It can be very frustrating and even embarrassing for some. It can make your life difficult and even prevent you from enjoying the things you love.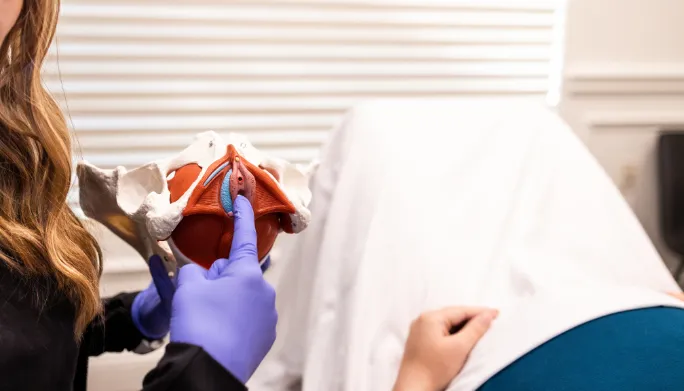 Our pelvic floor physical therapists are able to address many issues related to pregnancy and pre-birth. Our staff are expertly trained pelvic floor physical therapists who spend many, many hours studying the pelvic floor and how it interacts with the rest of the body.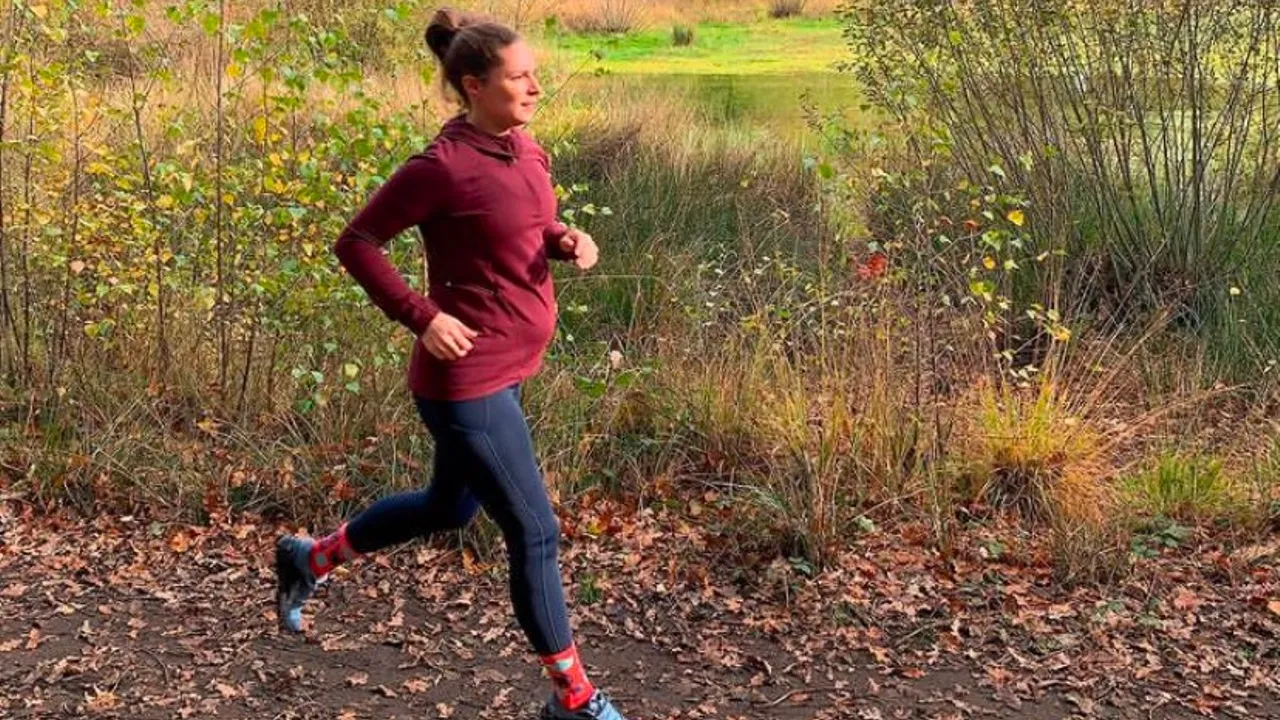 The body adjusts to the growing baby during pregnancy and this can affect the muscles and posture. The body must not only heal from labor and delivery but also adapt to the fact that it is no longer pregnant.
Return to Exercise Postpartum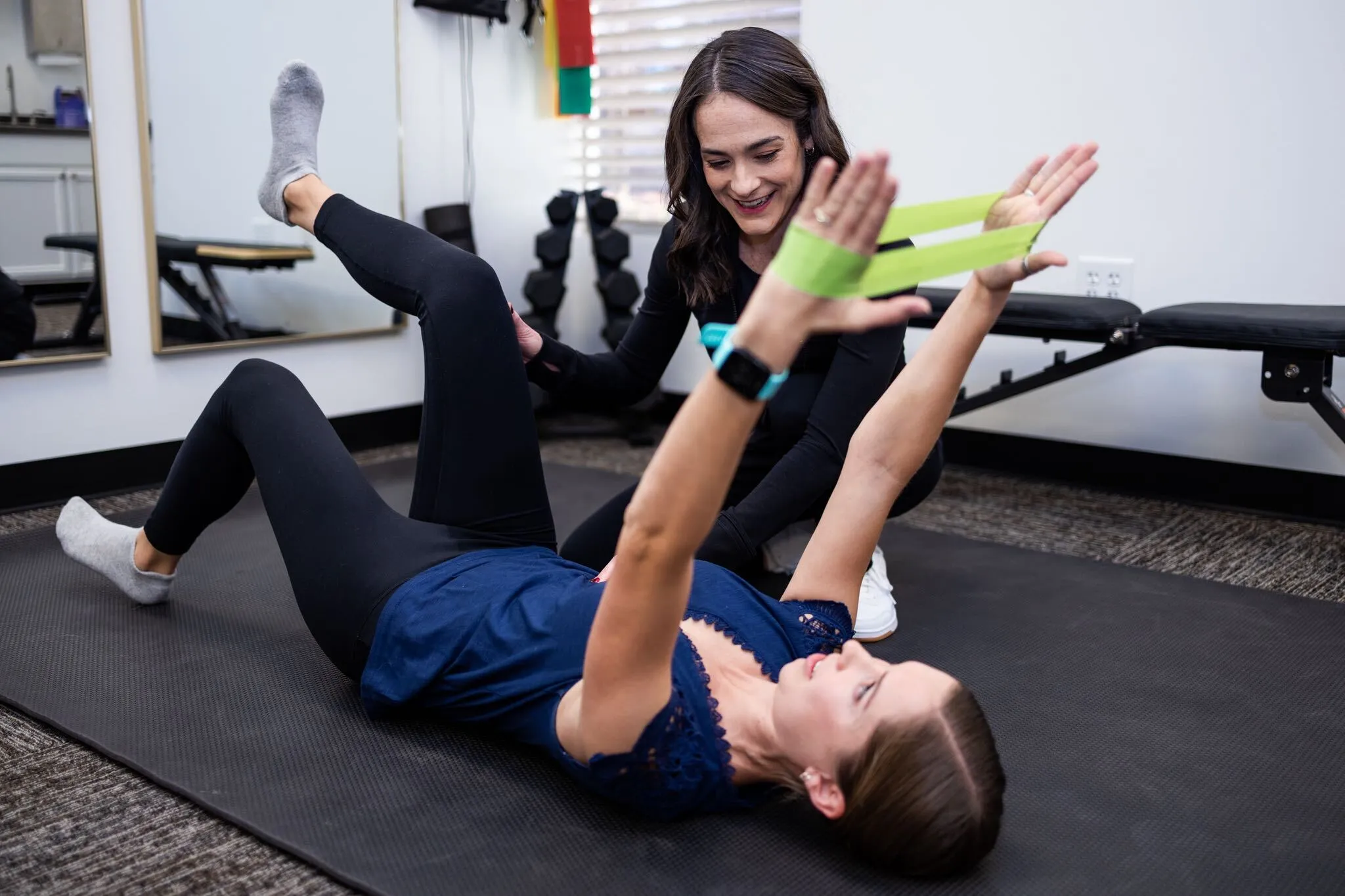 It is difficult to make the necessary adjustments when you become a mother. The internet can also be confusing and overwhelming with information about postpartum exercise. Let's talk about returning to exercise after childbirth.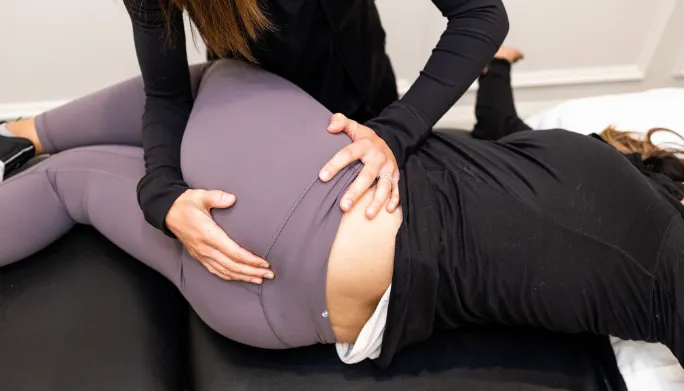 Manual therapy is a safe, effective and non-invasive treatment method that is used by physical therapists, massage therapists, and athletic trainers. Typically, patients visit a manual therapist when they are experiencing musculoskeletal pain.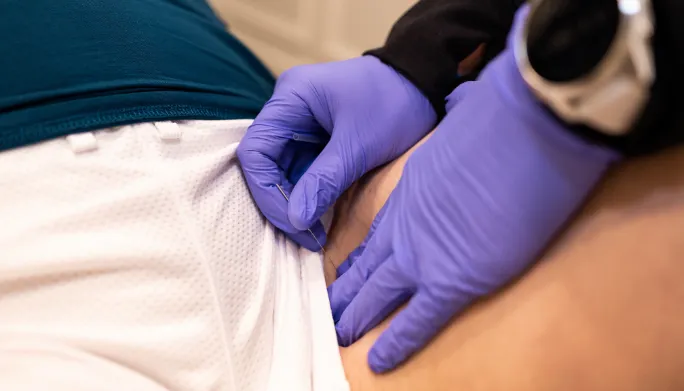 Dry Needling is a treatment technique often used by physical therapists to relieve pain. It requires using a sterile acupuncture needle that is inserted through the skin into muscles, tendons, ligaments, and/or close to nerves to immediately reduce pain, decrease muscle tension and increase mobility.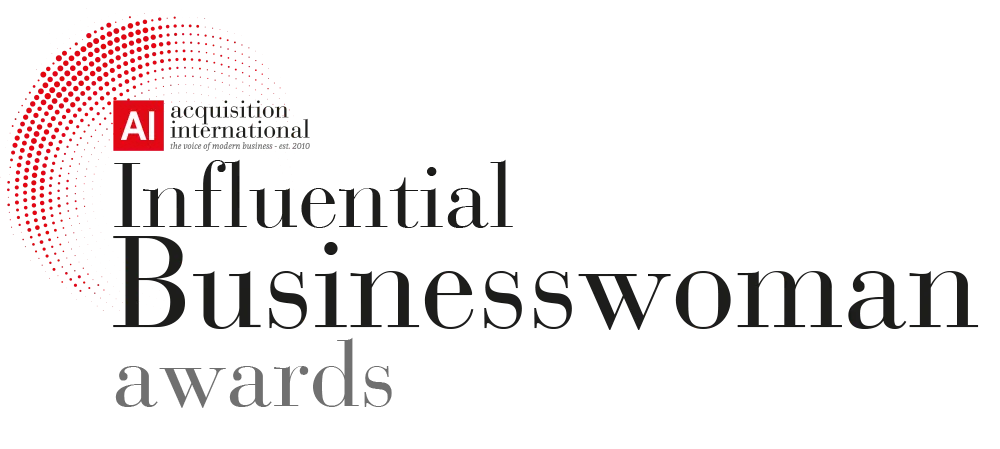 Reborn Pelvic Health & Wellness – the USA
Most Dedicated Women's Pelvic Health Expert 2022: Betty DeLass

Pregnancy / Postpartum
Diastasis Recti
Prolapse
Pubic Symphysis Dysfunction
Support and care during pregnancy/postpartum
Staying active during pregnancy
Return to exercise
Performance
Pelvic Pain
Endometriosis
Painful Periods
Interstitial Cystitis
Pudendal Neuralgia
Pain with Intercourse/Exam
Vaginismus
Vulvodynia
Tailbone Pain
Chronic or Acute Hip/Low Back Pain
SI Joint Dysfuncation
Bowel and Bladder
Dysfunction
Incontinence
Urgency/Frequency
Incomplete Emptying
Constipation
Retention
Hemorrhoids
Prolapse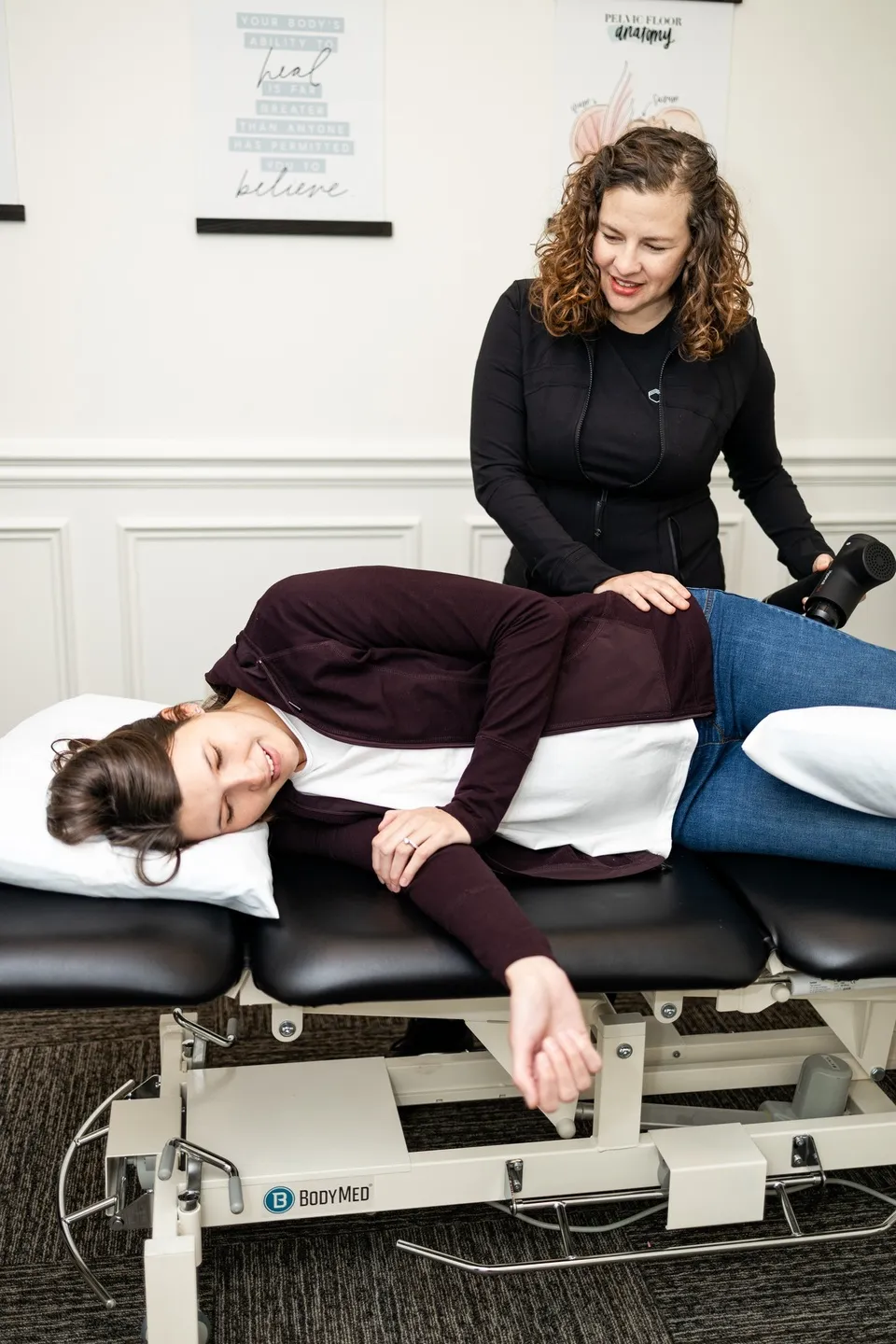 OUR PHILOSOPHY:
YOU ARE A

WHOLE PERSON
We believe in finding and fixing the underlying "why" to yield lasting results
We believe in hands-on manual physical therapy and the healing benefits it provides
We believe in a team approach, we are here to listen to YOU and meet YOUR goals
We believe in empowering YOU with the tools and understanding to resolve symptoms and prevent them from returning
"Wonderful experience! I feel so informed and confident." – Mary T.
Our Pelvic Health Programs
Here in Lehi, we specialize in pelvic floor physical therapy and are dedicated to providing personalized care to help our patients achieve their health and wellness goals.
Our programs are designed to address pain management, improve strength and function, and prevent future injuries. Our experienced and licensed therapists will work with you to create a customized plan that fits your needs and helps you reach your full potential.
Contact us today to learn more about how we can support you on your journey toward optimal health and wellness.
Frequently Asked Questions

What Makes Reborn Pelvic Health & Wellness Different?
We provide one-on-one care to our patients with our expert pelvic health physical therapists for one hour (or longer) sessions. We utilize many different hands-on (manual therapy) interventions to treat the root cause of your symptoms allowing you to return to living life to the fullest. We focus on things both inside the pelvis and outside the pelvis. We are very holistic in our treatment and provide you with individualized care. Each session builds on another, and you are never doing the same thing. You are never working with multiple therapist, techs or aids. Always with a provider. And you are never off on your own doing exercises in a corner. Much different than most 'traditional' physical therapy!
We are physical therapists, orthopedic physical therapists and pelvic floor physical therapists.
Honestly, we couldn't get enough and just kept learning knowing we were missing an essential part: THE PELVIS! We are the cream of the crop when it comes to physical therapy because we can literally treat the entire body! How cool is that?
We are the go-to experts on before, during, after pregnancy and beyond!
The other amazing thing about our treatment philosophy is that we continue with optimal health and wellness. Meaning, rather than what "typical physical therapy" does, stopping once your symptoms are gone or you are 80% better. We continue on into full resolution of symptoms, getting to the root cause and underlying WHY behind your symptoms, build resiliency in your system, and then reach for new goals. Our treatment philosophy allows us to work into performance and optimizing both inside and outside of the pelvic floor, so you can obtain things that you have never thought possible!
What Types Of Conditions Can Be Treated?
• Bowel/bladder incontinence
• Pelvic pain
• Edometriosis
• Painful bladder syndrome/IC
• Pain with intercourse or intimacy
• Pregnancy/Postpartum
• Low back/hip/SI/tailbone pain
• Constipation
• Urinary urgency/frequency
• And many more!
How Many Visits Will It Take?
Great question, in true physical therapy form… it depends !
Most of our patients see us for eight-ten visits to completely resolve their symptoms and optimize their vagina and live life to the fullest! Others love us so much they come back for optimization/maintenance every few months as they achieve performance levels and soar to higher activity and personal bests.
It all depends on what is going on, how long your symptoms have been bothering you and your goals. Each plan of care is individualized to each person. We treat based on symptoms and what your body needs to find lasting relief for long term benefits.
We typically see patients 1 time a week for 1 hour appointments until symptom resolution (meaning you are no longer having the issues you had when you came in). Then we switch to the
"building resiliency phase" of treatment as we "add" back in things that you want to be doing ie. running, jumping, sex, etc. During this phase of treatment we drop down the frequency of visits (every other week, every 3-4 weeks). Once you have added back in everything and are doing well with out symptoms still then you get to transition to the "Optimal Vagina Phase, meaning you are living life to the fullest without even thinking about your pelvic floor.
Once a patient, always a patient. You carry your pelvis with you your entire life. We are here for you along the whole journey ie) you get pregnant again, you twist your ankle, or have a weird neck kink.
Additionally, we offer flexible scheduling to meet your needs if you are traveling from out of state or > 1 hour away from us.
Where Are You Located?
We have multiple locations:
West Jordan: 7611 S Jordan Landing Blvd, Suite #130, West Jordan, UT 84084
Lehi: 1883 N 1120 W, Lehi, UT 84604 (Inside Utah Birth Suites)
Logan: Coming April 2023
Do You Take My Insurance?
We are considered "out of network" providers. What that means is, we take payment at time of service and then supply you with a superbill, a detailed medical receipt, to submit yourself to your insurance company for your "out of network physical therapy benefits." Then your insurance company will reimburse you directly for whatever your personal insurance plan covers. This varies from insurance plan to insurance plan.
We also accept HSA/FSA and any other major credit card.
In many cases, the out of pocket expenses for a course of physical therapy will be LESS for services provided at Reborn Pelvic Health & Wellness compared to what is billed at an in network provider, where they bill your insurance for you.
Being an out of network provider allows Reborn Pelvic Health & Wellness staff to focus all of our energy on patient care, and allows patients to make informed decisions regarding the costs of their health care choices without any surprise billing in the end for thousands of unexpected dollars.
Why Are You Out-Of-Network?
We do this for multiple reasons. Primarily, we believe in autonomy of care and that as skilled practitioners, we are the most equipped to decide what care is best for you, rather than your insurance company. Additionally, we believe in efficiency and are best able to do so while working with one client at a time, achieving greater outcomes in less time. Utilizing our undivided attention, we are able to achieve greater outcomes in less time than when managing multiple cases at the same time. Many in-network companies see multiple patients at a time and utilize techs, aids or other staff for care. We do not do this.
Fortunately our receipts, or superbills, function as claim forms and can be submitted to insurance for reimbursement to the you, the individual. The claim will go towards your out-of-network benefits. Each plan varies on what is covered or not covered.
What Type Of Payments Do You Accept?
We accept all major credit cards, cash, Venmo and check.
HSA/FSA can also be used asl well for clinical services.
A credit card is required to reserve your appointment and payment is required at completion of the appointment.
Do You Have A Cancelation Policy?
Our goal at Reborn is to provide every patient with high-quality care and attention. It is important that patients attend their appointments to achieve their treatment goals. In order to provide this care, we will make our best efforts to accommodate each patient's schedule and reserve appointment slots accordingly.
We understand that life happens, and you may need to cancel or reschedule your appointment. In the event that you're unable to make your scheduled appointment, we do require notice at least 24 hours (business days) prior to your appointment. This will allow us to find a different time for you to continue your treatment while also allowing us to provide care to another patient who may be waiting to be scheduled.
Cancellations made less than 24 hours prior to an appointment will result in a 50% fee of the appointment. If you no show an appointment they are subject to full charge for the visit. These fees will need to be paid directly by the patient prior to receiving additional treatment in any future appointments.
A Late Cancellation is an appointment cancellation made less than 24-hours (business days) before your appointment. If you fail to appear for your scheduled appointment without any cancellation notice, you will be considered a No-Show.
We send automated email confirmations and text reminders 48 hours in advance of your appointments; but it is your responsibility to track your schedule in order to cancel or reschedule in a timely manner. Missing an appointment due to a missed email or text reminder does not exempt you from the late cancellation fee.
We require all patients to have a credit card on file at their first appointment. Any late cancellation or missed appointment fees will be automatically charged. We reserve the right to charge the late cancellation fee without notification to the patient as part of this policy.
If you have any questions around cancelling you can always reach out to our team.
What Is The Difference Between the $67 Introductory Assessment And A Pelvic Floor Physical Therapy Examination?
$67 Introductory Screening Assessment: This is our introductory screening assessment. It is a 30 minute health and wellness appointment with our expert pelvic floor therapist. We will perform a pelvic floor screening protocol questionnaire, assess breathing including a balloon blow up test, assess diastasis recti (abdominal separation), assess posture and assess muscle activation (core and glutes.
Then, if you qualify, we will discuss next steps for pelvic floor therapy.
This assessment does NOT include an evaluation, internal assessment, treatment or plan of care. You CANNOT use HSA/FSA for this appointment.
Pelvic Floor Physical Therapy Evaluation: This is what you would select for a more comprehensive and individualized one hour pelvic floor therapy evaluation with our expert pelvic floor therapist. This will include a full body movement analysis, full body evaluation, including a deeper dive into your spine, ribs, breathing, abdomen, hips, pelvis, and on down the body to your feet, as well as an external and internal pelvic floor examination, looking at the pelvic floor range of motion, strength, endurance, mobility, scar tissue, prolapse, pressure management and coordination, as well as treatment and an individualized and personalized plan of care. We will then connect all the dots for you to get the root cause of your symptoms so you can get back to living life to the fullest with an optimal vagina!
This is your next step after a $67 assessment, or you can bypass the $67 assessment and do an evaluation right away if you already know you need pelvic floor physical therapy.
This is covered by your out-of-network physical therapy health insurance benefits. You can also use HSA/FSA money for this!
Please call us at 801-216-3117 to schedule.
What Do I Wear To My Appointment?
Please dress in comfortable clothing. We suggest workout clothing, such as a shirt and shorts, for movement and treatment. You can also come in normal clothing and can use a pair of shorts we have 🙂
What Is The Pelvic Floor?
A group of muscles, nerves, ligaments, and tissues that form a bowl in the bottom of your pelvis.
Pelvic floor physical therapy is a therapy treatment to help address pain, weakness, and dysfunction in and around the pelvic floor muscles. Both men and women can experience dysfunction with their pelvic floor. Reborn Pelvic Health & Wellness clients receive a private and thorough one hour evaluation by a licensed doctorate of physical therapy with specialized training in the muscles of the pelvic floor. Research shows that strengthening of the pelvic floor muscles can reduce the effects of incontinence, organ prolapse, and many other conditions specific to women. Education is our greatest tool and clients are taught ways to independently manage issues such as bladder retraining, behavior/lifestyle changes, therapeutic exercise and modalities to improve quality of life. Our physical therapists are trained in manual treatment techniques, trigger point dry needling, and therapeutic exercise to address many of the symptoms associated with bowel, bladder and sexual dysfunction as well as return to higher levels of exercise postpartum.
What is really important to know is that physical therapy is the first-line treatment for these conditions before any other interventions should be considered.
What Does The Pelvic Floor Do?
• Provides support for your organs
• Helps with bowel and bladder control
• Has important sexual functions
• Acts like a sump pump with movement
• Helps stabilize low back, hips and pelvis
What Causes Pelvic Floor Dysfunctions?
Many different things can lead to pelvic floor problems: prior or current hip/low back/tailbone injury, pregnancy/delivery, sexual trauma, hormone changes, stress, car accidents and many more
Should I Cancel My Appointment If I Have My Period?
Nope! You can still come. You are a whole person and we have plenty to work on in the pelvis and outside the pelvis. It doesn't make a difference to us as your provider. If it makes you uncomfortable, we can hold off on anything internal until the next session. We would hate to cancel 1/4 of our patients because they are menstruating…and that is not ok! You deserve BETTER!
What Will The First Visit Include?
We will review your medical history ahead of time and go over a full body movement analysis.
After that, we will deep dive into the specifics of your spine, rib cage, breathing, abdominal cavity, hips, pelvis, SI joints and all the way down to your feet. We will then perform, with consent, an external and internal pelvic floor examination. We will be looking through the lens of a physical therapist, at range of motion, strength, coordination, mobility, scar tissue, trigger points, and overall movement systems. With the information we gather we will perform treatment and give you a plan of care to optimize your vagina and get back to living your life to the fullest!
What Is Dry Needling?
In the simplest version, dry needling communicates with your nervous system, restores homeostasis, improves blood flow, decreases pain, improves activation of the muscles and improves range of motion.. this is what we know so far!
We use thin filiform needles (same needles as acupuncture, however it is NOT acupuncture) to stimulate myofascial trigger points, muscles and connective tissue to help manage pain, improve mobility and enhance muscle activation. When there is a trigger point of contracted tissue it creates an environment with decreased blood flow and oxygen which leads to changes in pH (more acidic) and a dumping effect of biochemicals that sit there and creates/signals to the brain that there is pain/discomfort/tightness/etc. We then take a dry needle into the trigger point (the most painful/discomfort, or one that reproduces your pain) to stimulate a local twitch response. The local twitch response helps restore the blood flow and oxygen, balance the pH and clear out the biochemicals that are hanging out in the contracted muscle fiber signaling to your brain. Its a game changer, we go directly to the source!
Does it hurt? Depends…some people think it is painful, other think it is a weird/unique stimulation, and others just feel blow flow returning to the area. Try it out yourself and let us know what you think!
Should I Cancel My Appointment If I Did Not Do My Exercises?
Nope! We still want you to come!
Each session is unique and we can continue to make progress whether you have done your exercises or not. Let us help you continue the momentum forward! Canceling an appointment be cause you "did not do your exercises" will only set you back further, our hands on approach is where the magic happens!
Do I Need A Referral From My Doctor?
Nope!
Utah is a fully direct access state, which means by law you do not need a physician referral to go to physical therapy. You can go to whoever you want whenever you want. Wahoo!!!
That being said, we still believe in collaborative care and will communicate with other providers as needed. We want to know who is on your care team!
Can I Bring My Kids To My Appointment?
Our goal is create a supportive environment for our patients and ensure they can benefit from their visits. We understand that many of our parent patients have childcare limitations, and also know that in some cases, having 1:1 time with a physical therapist without children present can be supportive in achieving treatment goals.
‍
If you are need to bring your child(ren) we are happy to accommodate, however, we do ask that your child(ren) be respectful and able to be with you during your visit in the treatment room. We recommend bringing something to occupy them for your entire session or get childcare if that is not possible. We want your session to be focused as much on your health and healing as possible. Children cannot be left unsupervised at any time. Real talk: you're not alone. If childcare is preventing you from receiving the care you need, please do not hesitate to reach out so we can discuss options
Should I Do Pelvic Floor Physical Therapy While Pregnant?
Absolutely! We highly encourage this!
We would love to help you optimize your body, pelvis and pelvic floor for birth. As a physical therapist we believe we are an essential part of your birth team, preparing you as much as possible from the physical side of things. Additionally, it helps you get some of the "learning curve" out of the way by helping you become the expert of your own body!
Many of our moms-to-be have wonderful experiences with their birth!
For more information about why it is important and necessary for pelvic floor physical therapy during pregnancy, check out our blog page.
When Should I Start Pelvic Floor Physical Therapy Postpartum?
We typically see our patients 2-4 weeks postpartum. As soon as you feel ready to leave the house and add an appointment to your schedule. We do not perform an internal exam until you have been cleared from your other providers) at the 6 week postpartum check up. It is important for your uterus to heal prior to any internal exams.
We believe that rehab postpartum is ESSENTIAL!
When do you start physical therapy for any other musculoskeletal event, like a knee surgery or joint replacement? IN THE HOSPITAL!!!
Our mission is that every pregnant and postpartum person has a pelvic floor physical therapist on their care team.
We can work on so many other things outside of the pelvis immediately postpartum, like breathing, bringing the rib cage back down, connecting back to your core and glutes, body mechanics and neck pain just to mention a few ;).
Do You Treat Men?
Our passion is serving, educating and empowering owners of a vagina. We truly love serving people before, during and after pregnancy.
That being said, we do often see the partners and significant others of our patients for treatment as well. Simply because they see the results and want them too!
If your significant other, family member, or friend needs care we can provide that too!