Craniosacral Therapy in West Jordan & Lehi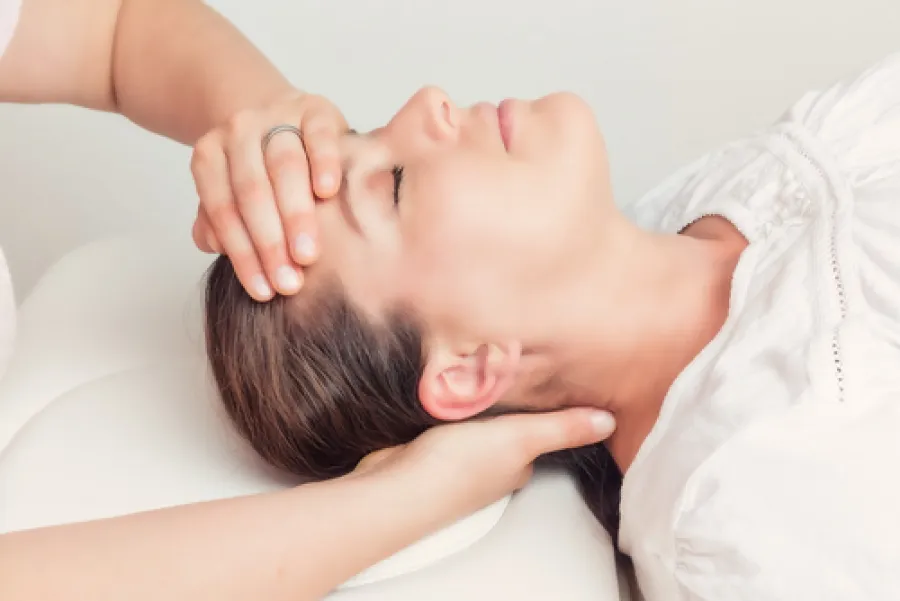 CranioSacral Therapy is a gentle touch that allows for the release of restrictions in the soft tissues surrounding the central nervous system. This helps to reduce pain and dysfunction.
CranioSacral Therapy
CranioSacral Therapy (CST), a gentle, hands-on approach to releasing tensions deep within the body, can relieve pain and dysfunction, and improve overall health and performance. Our therapists at Reborn Pelvic Health & Wellness have received advanced training in CranioSacral therapy.
What is CranioSacral Therapy?
CranioSacral therapy is a gentle and hands-on approach to evaluating and improving the functioning of a physiological system called the craniosacral. It consists of the membranes, cerebrospinal fluid, and other fluids that surround and protect the spinal cord and brain. To release restrictions in the soft tissues surrounding the central nervous system, therapists use a light, non-toxic, tough. CST is being increasingly used to prevent disease and treat a variety of medical conditions, according to the Upledger Institute International.
How does CranioSacral Therapy work?
Your body adjusts to the strains and stresses it is subject to every day. These changes can cause tissues to become tighter and more distorted, causing the craniosacral systems to be less efficient. These distortions can cause tension around the brain or spinal cord, which can lead to restrictions that can hinder the health of the central nervous and other systems it interacts with.
The therapist gently touches the craniosacral area with light touch. This is to check for ease of movement and rhythm in the cerebrospinal fluid that pulses around the brain. To release any restrictions in the craniosacral system's tissues, soft-touch techniques can be used.
CranioSacral Therapy can treat a variety of dysfunctions including chronic pain, sports injuries, stroke, and neurological impairment.
What conditions does CST address?
Concussions and Traumatic brain Injury
Migraines and headaches
Chronic back and neck pain
Tension-related and stress-related disorders
Motor-coordination impairments
Disorders of infants and children
Injuries to the brain and spinal cord
Chronic fatigue
Fibromyalgia
TMJ disorders
Scoliosis
Disorders of the central nervous system
Orthopedic problems
CST and Pelvic Floor Therapy in West Jordan and Lehi
This connective fascia runs throughout your body and the pelvic floors are no exception. CST can reduce restrictions in the tissues and structures around your pelvic diaphragm.
CST can be an excellent way to get internal work done. CST can be used to finish a pelvic floor session, reducing tightness and downregulating the nervous system.
CST can also help to improve your respiratory diaphragm. Your diaphragm, pelvic floor, and breathing patterns work together. Optimizing your breathing will help your pelvic floor muscles!
Benefits of Craniosacral Therapy
CST is beneficial for nearly everyone. It can ease pressure, relieve pain, reduce stress, and tension. CST can help restore mobility, especially cranial mobility, and improve the function of the nervous system.
Individuals with chronic conditions like sinus infections, TMJ, fibromyalgia and migraines/headaches, TMJ, TMJ, fibromyalgia, TMJ, TMJ, TMJ, scoliosis, neck/back problems, insomnia, IBS, or other digestive issues, as well as chronic fatigue can also benefit from Craniosacral Therapy.
CST is a treatment that can be used to benefit all ages. It has also been proven effective in treating psychological and physical conditions.
Request An Appointment
Please fill out this form and
we will contact you about scheduling.


Alyson Cusick

Can't even wait for my appt to tell you how excited I am! I started the couch to 5k program today. Got on the treadmill and no joke I got so nervous I almost didn't do it. Started running, literally NO LEAKS! First time in over 6 years I've been able to run without a single leak. I can not tell you how pumped I am about this! You are the best, pelvic floor PT is the best and EVERYONE should do it. Thank you!!!
The progress I have made and the knowledge I have learned has been amazing. This should be standard care! I'm so excited about my progress and have changed my body in ways I never thought would be possible without surgery or extremely invasive care. Betty is the best! She is so knowledgeable and professional, she has been great to work with!


Sara Frohardt


Dr. Betty and Reborn Pelvic Health & Wellness has changed my life for the better! Being a mom does not mean poor pelvic health is normal. Doctor Betty worked with me in my home to identify what problem areas I needed to work on. I always felt comfortable and confident in everything she recommended! And IT WORKS! So glad I found Dr Betty and was able to make my pelvic health a priority, I wish more women did the same!